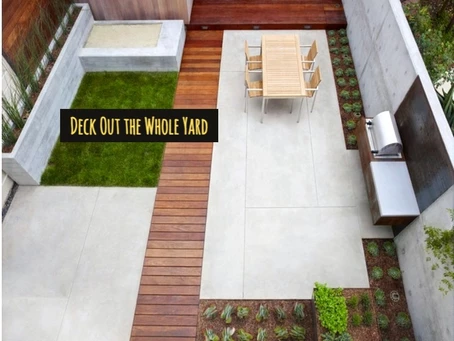 As a resident of Northern Idaho, I know I am not alone in saying that I daydream of my forever home settled on a dozen acres of land. How beautiful it would be to walk out onto a 500 square foot deck that overlooks a serene, mountainous landscape and enjoy an oversized mug of coffee. However, like a lot of residents I live in a limited space within town but does that mean we can never experience the peace of outdoor living? I think not! Let's look at some designs that are fashioned in a way to efficiently utilize your small outdoor living space. With some creativity and sound planning, small decks can have the same energy of a big deck.
Deck Out The Whole Yard
This may not be ideal if you have outdoor pets but it definitely falls under the category of "multi-purpose". Installing a deck that takes up a good portion of your backyard is perfect if your lawn is more dirt than grass or if you don't really have the time or money to carry out weekly lawn maintenance. What I find beautiful about this design is the the intentional placement of garden beds. For those with a green thumb but limited mobility, a decked out yard provides much greater accessibility than an otherwise soggy yard could provide.
Incorporating Built-In Furniture into Your Deck
A very popular design that small decks use is the incorporation of furniture such as benches, tables, or flower beds. For decks that do not rise above 30 inches, outlining your deck with open or backed benches, like the above Timber Tech Azek deck, can be a defining feature. For example, if we were to remove the seating from both pictures and instead add typical patio chairs, these now would have a bland appearance, almost empty or incomplete. What about just adding a railing system? While a railing system is ideal or necessary for some projects, for others they can make your small space seem even smaller. Railing creates the illusion of a wall while an open plan makes your deck seem larger.
Layers and Levels
If you are a fan of Seinfeld like I am, when I hear the mention of adding levels I immediately picture Kramer making a bet with Jerry about whether or not he can remodel his apartment into numerous levels to add more space. Kramer loses the bet but he had the right idea! If your backyard is small and also sits on uneven terrain, adding layers, levels or a combination of both to your deck can create a truly stunning outdoor living space. Using the middle picture above, the gorgeous Azek deck snakes around a more rugged space and without removing large amounts of wild foliage, the path provides a natural flow to which a person can walk through.
Decorative Pergolas and Privacy Walls
Now I am a huge admirer of pergolas, let's get that out there and when I have a deck of my own the chances of it donning a pergola is definite. Pergolas can help break up the deck space by creating a room or section, designated for a particular activity. The pergola can overhang a meditation space, a bbq grill, or a visiting area thus allowing the rest of the deck to be utilized...or not utilized. It really is a beautiful element that a homeowner can decorate with a string of lights, fabric, or hanging plants. Pergolas on small decks can add a magical scenery to any backyard. Adding on to the magic is installing a privacy wall. Now a privacy wall serves the purpose of keeping nosy neighbors from peeking into your space, especially if your quarters are close. Privacy walls can be very simple, like the fabric one shown above, to being more intricate and decorative. Like the pergola, privacy walls can help designate a certain area of your deck without enclosing it completely. The black privacy wall in the first picture under the section Layers and Levels, is very elegant without being an ostentatious addition to a small deck.
Small Decks Can Have the Same Energy As a Big Deck
Don't let the size of your outdoor space deter you from living out your daydream. Not sure where to start? Consult with a contractor who can help outfit your deck while keeping your vision in mind.
North Idaho Decks is a client -centered company, meaning we center ourselves around your wants and needs.
North Idaho Decks is Insured, Bonded, and Registered with the State of Idaho, Call Us Today To See How We Can Design Your Dream Deck!